This is an amazing dessert that no one can ever say no to it. The appearance itself is so alluring you would surely want to take a bite that very moment. So why not try it out in your kitchen and satisfy your cravings for this yummy delight?
Chocolate Mud Cake Cookie Sandwiches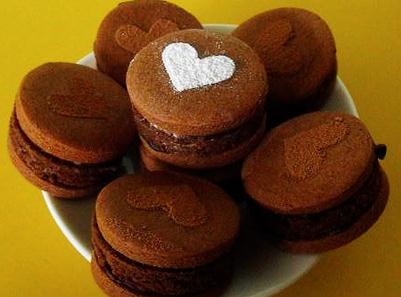 Ingredients for the cookies:
1. 1 stick butter or margarine
2. ¼ cup sugar or sugar substitute
3. ½ vanilla bean, seeded or 2 teaspoons pure vanilla extract or 2 teaspoons vanilla bean paste
4. 2 egg yolks
5. 1 ½ cups all purpose flour or gluten-free flour minus 3 tablespoons
6. 3 tablespoons cocoa powder
7. Pinch of salt
8. 1 to 2 tablespoons heavy cream (optional)
Ingredients for the chocolate paste:
9. 6 oz (180gr) bittersweet chocolate, chopped
10. 1/3 cup heavy cream
For the Mud Cake:
11. 1 stick (113gr) butter, at room temperature
12. 4 oz (120gr) dark chocolate, chopped
13. 1 cup (200gr) sugar
14. 1/2 cup (125ml) water
15. 3 tablespoons (30gr) coffee liqueur
16. 2 egg yolks
17. 1 cup (125gr) all purpose flour
18. 3 tablespoons (16gr) cocoa powder
Method of making the cookies:
• Preheat oven to 350F.
• In a stand mixer fitted with the paddle attachment, whip the butter and sugar until light and creamy.
• Add vanilla, then the egg yolks, one at a time, scraping the bottom and side of the bowl in between each addition.
• Add the flour, cocoa powder and salt and beat until the dough just starts to come together. Add some heavy cream if the dough still looks very crumbly and dry.
• Gather the dough into a ball, flatten it a little to a small disk and wrap it well in plastic wrap. Refrigerate two hours before using.
• Lightly flour your work area well and start rolling the dough from the center out, lifting it from the work area every 2-3 times you roll over it.
• Cut out 48 rounds in the dough, gathering scraps and rerolling as you go.
• Place the cookies on 2 parchment lined baking sheets and refrigerate 20 minutes.
• Bake for 10-12 minutes. Let cool.
Preparing the chocolate:
• Place the chocolate in a medium size bowl and set aside.
• In a small saucepan set over medium high heat, bring the cream to a boil. Remove from the heat and pour it over the chocolate.
• Let the mixture stand for 3 to 5 minutes. Slowly stir the chocolate and cream together until it is completely smooth. Let cool to room temperature.
How to prepare the mud cake:
• Preheat oven to 350F.
• Slightly coat two 8-12-inch pans with cooking spray and line them with a piece of parchment paper. Slightly coat the parchment paper with cooking spray or vegetable oil.
• In a small pot set over low heat, combine the butter, chocolate, sugar and water and stir until everything is melted and smooth.
• Remove from the heat, add the coffee liqueur and let cool to room temperature.
• Whisk in the egg yolks, then the flour and cocoa powder.
• Divide the batter between the prepared pans and bake for 20 minutes.
• Let cool completely.
• Cut 24 rounds of the same size as the cookies.
All the parts of the dessert are ready and now for the assembly:
• Spread a small amount of chocolate paste under each cookie and sandwich a mud cake round in between two of them.
• Dust with cocoa powder if desired
Your chocolate mud cake cookie sandwiches are ready to serve.